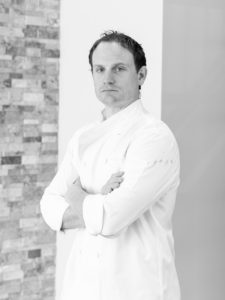 A graduate of Le Cordon Bleu College of Culinary Arts, Texas-born and raised Chef Austin has been impressing guests all over the world, first at Dallas's famed Mansion on Turtle Creek, and later at John Tesar's Modern Steak & Seafood. Today, Chef Austin sources ingredients from around the world and combines them with unrivaled technique and vision at TRIS,
Cureight
&
The Kitchen
in The Woodlands. The result is cuisine that is unmatched in The Woodlands and among the finest in Texas.
Family comes first to Chef Austin Simmons. At TRIS, you'll find Chef Simmons treats his team and restaurant like his own family. Which is why it's only natural that TRIS is the name his own beloved daughter. The team is more than just family to Chef Simmons, they are the heart of the restaurant and partners in the success of everything at TRIS. Without the dedication and partnership from the team, TRIS wouldn't run with the same love and commitment that makes it so special to the community. TRIS serves loyal consumers and new guests the perfect experience; through upscale food and drink, artful service and finely tuned hospitality no matter what the occasion.