We're excited to be hosting our third "Protege and Mentor" Collabor'EIGHT' Dinner, featuring Chef Austin Simmons' former mentor and three-time James Beard nominee Chef John Tesar.
Having trained under Tesar at the Rosewood Mansion on Turtle Creek in Dallas and the Tesars Modern Steak & Seafood in The Woodlands, Chef Austin adapted Chef Tesar's innovative culinary perspective in his carrier. You'll also get a chance to autograph Chef John Tesar's 'Knife: Texas Steakhouse Meals at Home' Hardcover Book.
Never one to shy away from controversy or the limelight, renown Chef John Tesar's life choices are just as daring and bold as his cuisine. The four-time James Beard "Best Southwest Chef" semifinalist and "Top Chef" contestant specializes in modern American cuisine prepared with authentic European techniques, served up to his legion of fans who flock to his Dallas-based steakhouse – Knife. Tesar's no-nonsense personality and sharp culinary perspective have garnered high-profile acclaim throughout his 20+ year career including national nods from Esquire (named to "Best New Restaurants" for two consecutive years), Food & Wine, New York Magazine, The New York Times, appearances on "The Today Show," "The Early Show" and winning the inaugural season of the Food Network's "Extreme Chef."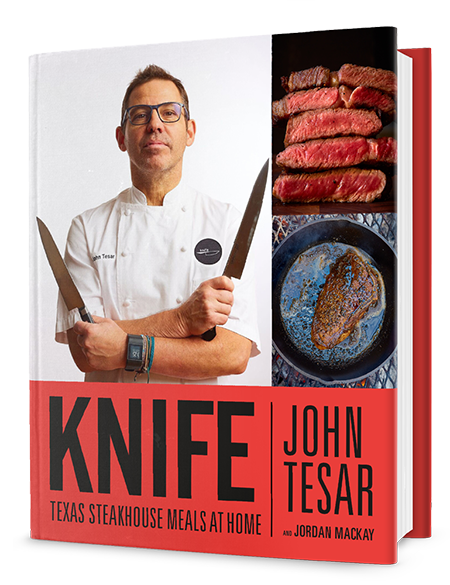 PROTEGE & MENTOR COLLABOR-EIGHT DINNER
When: Monday, January 14, 2019 @ 6PM
What: EIGHT Course Collaboration Dinner Experience with Wine Pairings.
Where: TRIS at 24 Waterway Avenue in The Woodlands.
How: $175 Per Person. Non-inclusive of Tax & Gratuity. $25 for the 'Knife: Texas Steakhouse Meals at Home' Hardcover Book. (Chef John Tesar will sign all the books purchased!)
SOLD OUT Still interested? Fill out the form below, and we'll contact you if there are any cancellations.
Houston Chronicle: "Chef John Tesar returns to Houston for a one-night-only dinner"