Join us on April 15th, as we pair two of Houston's most talented young chefs; Chef Austin Simmons & Chef Dominick Lee.
Chef Dominick Lee hails from New Orleans, Louisiana. From a young age, he knew he loved being in the kitchen with other like-minded culinary wizards. For career days in school, Lee would traverse to restaurants and soak up as much knowledge as he could from the top chefs in New Orleans. After high school, he eventually found his way to a role in the kitchen at Jonny Sanchez in New Orleans, and his inquisitive mind pushed him to seek out knowledge from the chefs he worked alongside. Soon realizing that he could make cooking into a career pursuit, Lee applied to The Art Institute of Houston, which was partly founded by the inaugural Chris Shepherd Underbelly Scholarship. At culinary school in Houston, he mastered the French classics and surveyed the cuisines of six continents, after which he became executive sous chef at a prominent Indian restaurant in Houston, Kiran's – working for Chef Kiran Verma.
The totality of his education and experience in the culinary space has enriched him with the tools to be successful as he helms a kitchen as Executive Chef for the first time at Poitín. Opened back in May 2018, Poitín is a full-service bar and kitchen, located in the Washington Avenue Arts District just west of downtown and south of Interstate 10.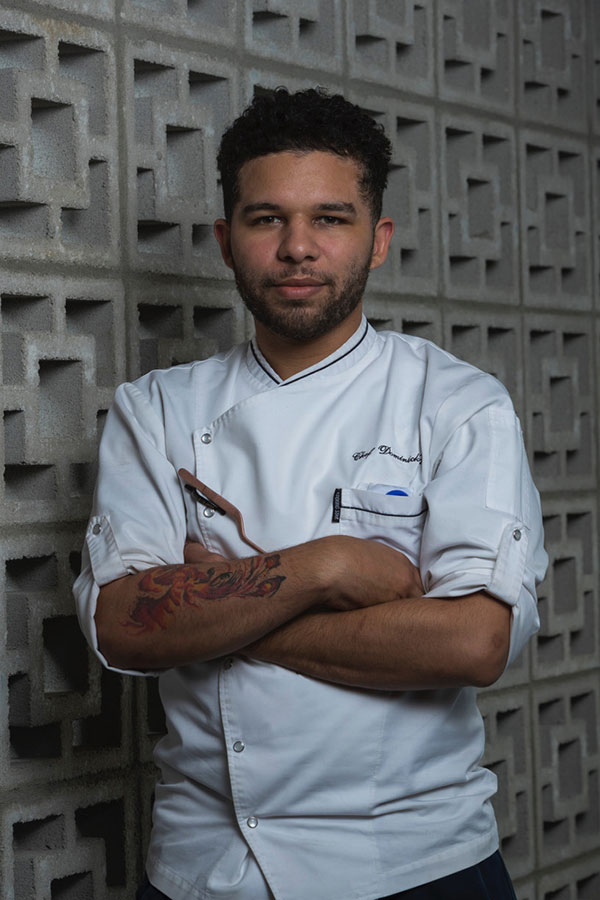 COLLABOR-EIGHT DINNER: DOMINICK LEE / POITIN
When: Monday, April 15, 2019 @ 6PM
What: EIGHT Course Collaboration Dinner Experience with Wine Pairings featuring Chef Dominick Lee & Chef Austin Simmons.
Where: TRIS at 24 Waterway Avenue in The Woodlands.
How: Please purchase your tickets below. $225 per person ALL-Inclusive. Tickets Are Non-refundable.